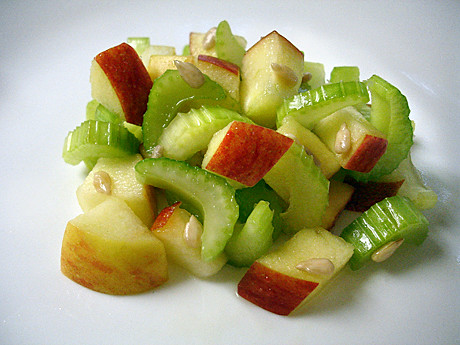 This is a little something I came up with a few months ago when the only fresh produce I had were apples and celery. The two are a great combination, and with sunflower seeds and a quick cider vinaigrette, this has become one of my favorite sides. The apples make it a good complement to pork, but it's so crisp and refreshing, it's a good addition to any barbecue or picnic.
With Mark Bittman talking about his favorite simple salads, I figured it was time to share my new one.
Apple Celery Salad
Original recipe (but it's only a few ingredients, so I'm sure someone else has come up with this, too)
1 crisp red apple (Gala, Braeburn, Fuji, Honeycrisp…just not Red Delicious. Seriously, do people actually like Red Delicious?)
3 stalks celery
1 tablespoon hulled unsalted sunflower seeds
1 tablespoon cider vinegar
1 tablespoon olive oil (I use a Spanish one from Trader Joe's that is so fruity and perfect for this)
1 tablespoon honey
pinch of salt
Wash and dice the apple. Wash and slice the celery. (They can be a little wet. The water makes the vinaigrette go a little further.)
In a medium bowl, whisk cider vinegar, oil, honey and salt. (Measure the honey after the oil so it comes off the tablespoon more easily.)
Add the apple, celery and sunflower seeds to the bowl and toss in the dressing.
Best if refrigerated for an hour so the flavors can come together. The vinegar keeps the apples from turning brown, so don't worry.