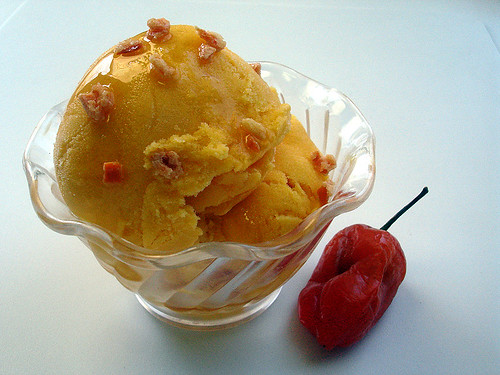 Mango is such a rich, almost creamy fruit that works incredibly with hot chili peppers. Mango salsa, mango chutney, Trader Joe's Chili-Spiced Dried Mangoes… I'm a big fan of all of these so pairing mangoes and habaneros in ice cream didn't seem too crazy.
The candied habaneros are good, but I prefer my ice cream without interruption, ie. crunchy bits. If you like toppings, go with the candied pepper pieces. Personally I liked the sherbet better with the spicy syrup that was left over from making the candy.
Either way, habaneros are plenty spicy, but they have a fruity flavor that is nice with mango. The heat hits after the initial cool of the sherbet, so the best remedy is another bite of creamy, icy mango.
Mango Sherbet
Adapted from The South American Table
2 cups pureed mango (Book says this is 2 mangos. I used canned puree from Campus Eastern Market)
1/4 cup fresh lime juice
little less than a pint of half and half (Milk or full cream is of course an option)
sugar to taste (Book says 1/2 cup plus 1/4 cup corn syrup)
Peel, cut and puree mangos in a food processor. We used canned puree, but I bet blended frozen fruit would be great too. In a large bowl, mix with lime juice and half and half (or milk or cream). Depending on the sweetness of your mango, plus personal taste, add sugar. Our mango puree was already slightly sweetened so we didn't add any sugar at all.
Transfer to an ice cream maker and freeze according to manufacturers instructions.
After we moved the sherbet from the ice cream maker to a plastic container, I added a splash of vodka, as we normally do to keep the mixture from freezing rock-solid, as homemade ice cream and sherbet tends to do. The alcohol is completely unnoticeable as far as taste, but it allows for better scoopability. Overall, I found this recipe had great texture.
Candied Habaneros and Habanero Syrup
Inspired by Ice Cream Ireland
1 habanero pepper
1 cup sugar
2 cups water
Cut the stems off the chillis, then cut them lengthwise. Scrape out seeds, and mince.
Combine the water and sugar and bring to a boil, stirring until the sugar is dissolved.
Add the habanero and cook over medium heat for about an hour, topping up with water as needed to keep from burning.
Remove from the heat and pass through a fine sieve, catching the chilli peppers. Save the infused syrup to serve over sherbet, fruit, or better yet, bacon. (Kat made brunch the next day, and I ate the spicy syrup on bacon, eggs and pancakes.)
Using a spoon or spatula, spread the chillis on a baking tray, and bake at 375 for about 5-10 minutes to dry
them about. They should darken slightly but not turn brown.