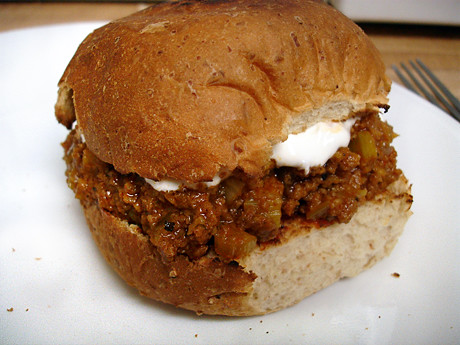 Posts have been slow for the past few weeks, I know. Michael is hiking in the Adirondacks and I recently returned from a trip with my dad to Finland and Sweden. I got back last week and started working as a mentor at a journalism workshop for high schoolers. Helping out at the workshop also meant I got free meals for the week, so I went about three weeks without really cooking anything.
I finally found a few minutes the other night to put together a quick homemade meal. I had a little bit of ground chorizo in the freezer, so I made spicy sloppy joes by adding onion, celery, ketchup and a splash of apple cider vinegar. (A little vinegar or citrus does something to a dish so that each bite leaves your mouth watering for the next.) I toasted a whole wheat bun and topped the chorizo mixture with some sour cream to tame the spice.
It was sweet, spicy, saucy…and definitely sloppy. Even better, it only took 15 minutes to make.
Spicy Sloppy Joes
Original recipe, serves four

1/2 pound ground chorizo
1 small yellow or white onion (or 1/2 a large one), diced
1-2 celery stalks, diced (Bell peppers are also good to give crunch to the otherwise mushy sandwich filling)
1/4 – 1/2 cup ketchup (Can't remember exactly how much I used. I just squeezed it in until it was at the consistency I wanted. Sorry I can't be more specific.)
1 tablespoon apple cider vinegar (red wine vinegar would be an acceptable substitute)
4 large rolls or hamburger buns
Sour cream to top each sandwich
In a saucepan over medium-high heat, add chorizo and break up with a fork as it browns. Reduce heat to medium and add diced onion and celery. When they start to soften, add vinegar and squeeze in ketchup until there is enough liquid in the mixture. You want the sandwich to be sloppy, but not soupy.
If you used good chorizo and ketchup, you shouldn't even need salt or pepper now, but taste it and see if you want anything else added. If your chorizo is weak, add some cayenne. We get ours from the Mizzou Meat Market, so it's already very spicy.
Toast the bread and add chorizo mixture and sour cream.