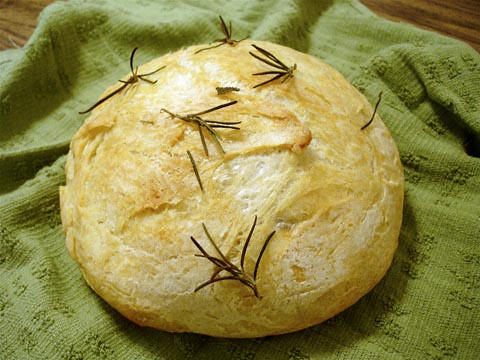 If you were to tell me there are people in this world who don't love warm fresh bread, I wouldn't believe you. Even if you have dietary restrictions that prevent you from having it, I bet you want it. My sister is allergic to wheat, but bread is probably her favorite thing ever.
This no-knead bread recipe is the opposite of labor intensive, but you have to decide 6 hours ahead that you want it. That's a pain, but it's great for weekends when can you wake up a little later, mix all the ingredients together in 3 minutes, let it rise for four hours while you do whatever you do on the weekend, then come back, fold it over a few times, let it sit 30 minutes more while the oven heats, then start to cook it before you prepare dinner.
Can't wait that long? Tell us, what's your favorite bakery?
Rosemary Sage Loaf
Adapted from Mark Bittman's Speedy No-Knead Bread (Though 'speedy' is a misnomer.)
3 cups flour
1 packet (1/4 oz) instant yeast
1 1/2 teaspoons salt
few sprigs of rosemary
few sage leaves
olive oil
Combine flour, yeast, salt and chopped herbs in a large bowl. Add 1 1/2 cups water and stir until blended; dough will be shaggy. Cover bowl with plastic wrap. Let dough rest about 4 hours at warm room temperature, about 70 degrees.
Lightly oil a work surface and place dough on it; fold it over on itself once or twice. Cover loosely with plastic wrap and let rest 30 minutes more.
At least a half-hour before dough is ready, heat oven to 450 degrees. Put a 6-to-8-quart heavy covered pot (cast iron, enamel, Pyrex or ceramic) in oven as it heats. If you have a smaller bowl, that's ok, just divide the dough evenly and bake in shifts. We did two loaves in a 4-quart Le Creuset bowl, and covered it with a ceramic plate.
When dough is ready, carefully remove pot/bowl from oven. Put the dough in, and shake pan once or twice to evenly distribute. It will straighten out as it bakes.
Cover with lid and bake 30 minutes, then remove lid and bake another 15 to 30 minutes, until loaf is beautifully browned. Brush with olive oil and more herbs if you wish. It's also good with sea salt on top. Cool on a rack.