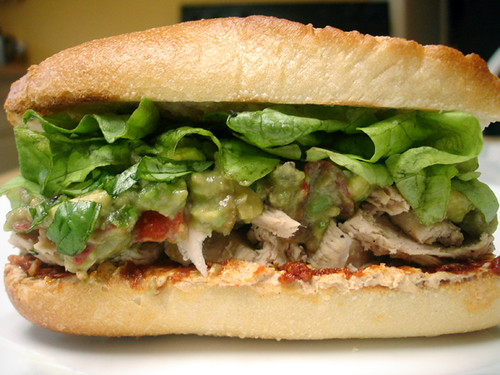 My roommate's boyfriend has been doing a lot of turkey hunting lately. And since every time he sees me I'm in the kitchen, he figured I'd enjoy some wild turkey breast. I'd never cooked anything wild before, so I did some research. I didn't want the meat to be too tough or too gamey tasting.
On the Missouri Department of Conservation website (of all places) I found a recipe for a white wine and lime marinade. Sounded tasty and nice and acidic to tenderize the turkey. Then I baked the strips of turkey breast in a pan with some of the marinade to keep it moist.
The result was still a little tough since the turkey was not only wild, but a little older, too. I didn't notice the toughness at all once I put the meat on a sandwich with tons of fixins. I think sauces and other additions are what make a good sandwich, so we had lots of options:
Guacamole
Chili-garlic tomato paste
Sun-dried tomato cream cheese (from Panera)
Mustard
Mayonnaise
Monterey jack cheese
Thin slices of carrots and cucumbers
Fresh basil leaves
Red romaine lettuce
I hadn't had a good sandwich in a while, so this hit the spot.
Wine and Lime Marinated Turkey

2 large turkey breasts, sliced into 1- 1 1/2 inch thick pieces
Juice from one fresh lime
1/2 cup dry white wine
3 large cloves of garlic, roughly chopped
Fresh ground pepper
In a large bowl, add juice from one whole lime and 1/2 cup of dry white wine. Roughly chop 3 or more cloves of garlic, and add to marinade. Grind black pepper into bowl as well. Add turkey breast strips, cover and refrigerate 1-6 hours. Then, grill or bake turkey pieces.
Since I had an older wild turkey, I wanted a slower cooking method with a lot of moisture. I heat oven to 350 degrees and arranged the turkey breast strips in a roasting pan with a little of the wine-lime mixture. Turkey breast is safe to eat when it registers 170 degrees.
Chili-Garlic Tomato Paste
Inspired by what we did here for the Iron Chef competition.
5 dried cayenne peppers
1 large clove of garlic, minced and smashed
1 tablespoon diced onion
1/2 teaspoon grated ginger
1 1/2 tablespoons olive oil
2 tablespoons tomato paste
1/2 teaspoon ground coriander
Salt and pepper
In a small saucepan, heat olive oil with dried cayenne peppers. Add onion, garlic and ginger. Season with salt and pepper. Take off heat just as onion and garlic start to brown. Transfer mixture to a small bowl, and pick out peppers. Mix onion, garlic and ginger with two tablespoons of tomato paste and 1/2 teaspoon of ground coriander seed. Add more olive oil if necessary.
Spread on sandwiches.
Guacamole
1 avocado
1 small vine tomato, diced
1 tablespoon diced red onion
1 tablespoon chopped fresh cilantro
1 clove garlic, minced and smashed
Juice from 1/2 a fresh lime
Salt and pepper
Smash avocado with garlic, then stir in all other ingredients. Use as dip or sandwich spread.