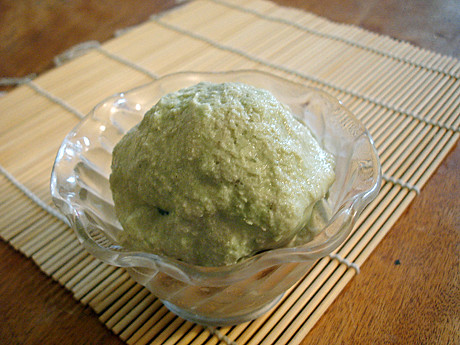 Lychee, if you've never had it, is an interesting little fruit that has a floral-like taste.
Michael is the one who picked up canned lychees with ice cream in mind, but he wasn't around to experience it. Before Michael left for Chicago, we explored Hong Kong Market in Columbia. I usually go to Chong's Oriental Market because it's walkable from my house and where I work. Hong Kong Market is on the edge of town, but it is bigger, has a more options and is less expensive.
Anyway, we never got around to making lychee ice cream while Michael was still in town. A few weeks later, I decided to pair it with matcha (green tea) my sister brought home from Japan. I love the green tea ice cream at Sparky's, and I'd been thinking about making matcha-mango ice cream until remembering the lychees that needed to be used.
The lychees gave the green tea a new dimension. Like I said, I find them to be almost floral. The flavors together make a nice, light finish to a meal or a not-too-sweet afternoon dessert.
It is National Ice Cream Month in the U.S., but of course we welcome everyone to celebrate with us. Any suggestions for new flavors we should create?
Green Tea Lychee Ice Cream
Modified from David Lebovitz's Green Tea Ice Cream in The Perfect Scoop
3 cups half and half
3/4 cup sugar
4 teaspoons matcha green tea powder
4 egg yolks (Lebovitz uses 6, which just seems like so much, although using more makes the ice cream richer and more custardy)
20 oz lychees, canned and seeded
pinch of salt
Warm a cup of half and half, sugar and salt in a saucepan. Pour the rest of the half and half in a large bowl and whisk in the green tea powder. Set a mesh strainer on top.
In a separate medium bowl, whisk together the egg yolks and slowly pour the warm mixture, whisking constantly. Scrape the warmed egg yolks back into the saucepan and stir constantly over medium heat with a heatproof spatula until the mixture thickens and coats the spatula.
Pour the custard through the strainer and stir into the cream. Whisk vigorously until the custard is frothy and the green tea powder is disolved.
Puree the lychee with a splash of milk or half and half. Press through the strainer and stir into custard mixture. Allow to cool completely before freezing according to your ice cream maker's instructions.