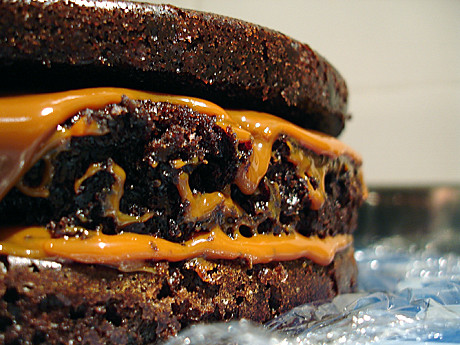 Chocolate and dulce de leche. I don't even have to say much more to convince anyone this is a great idea, but I'll get a little more specific: Three layers of dark chocolate cake loaded with thick Argentine dulce de leche that permeates what had been an extra springy cake, then covered, as everything should be, with creamy bittersweet chocolate ganache.
You shouldn't need any other reason to make this, but I came up with this decadent idea because today is my friend Kat's birthday. If you read He Cooks She Cooks fairly regularly, you know her name comes up often. While I was in Missouri, I cooked dinner with or for her nearly every night this summer and many times during the school year.
Now we're a hemisphere apart, but I wanted to make something to celebrate her birthday.
No, she can't eat any of this and that's sad, but I hope she appreciates the thought. I'm not much of a baker because I'm no good at following recipes and I don't have much patience. This is the first three layer cake I've ever made — my family makes a lot of bundt and sheet cakes because we'd rather get to eating cake than wait around for multiple tiers to cool so they can be properly frosted. But for this cake, I cooked each layer individually (I have a small oven and only one cake pan), waited for them to cool, and tried my best to be neat with the ganache.
Since you can't taste the cake, Kat, I hope the effort means something to you. And trust me, the cake is as amazing as you are imagining it right now. Happy birthday!
See also: Dulce de Leche Ice Cream
Chocolate Dulce de Leche Layer Cake
This is my own concept, using the sour cream chocolate cake recipe I saw on Smitten Kitchen as a guide. I used plain yogurt because sour cream isn't easy to find in Buenos Aires. I also added instant coffee granules to enhance the cocoa flavor, something I've seen in many other recipes. Dulce de leche is impossible to avoid in Argentina (but, of course, why would you try?) so there was no doubt I should make a dessert that used it. It also made me think of the time my roommate made a chocolate cake that involved poking holes in the top and pouring on sweetened condensed milk before frosting it. The texture was undeniably good, so I wanted to recreate that.
For cake
2 cups all-purpose flour
2 1/2 cups sugar
3/4 cup unsweetened cocoa powder
2 teaspoons instant coffee (a little less if you're using something more robust?)
2 teaspoons baking soda
1 teaspoon salt
1 cup neutral vegetable oil, such as canola, soybean or vegetable blend
1 cup plain yogurt (or sour cream)
1 1/2 cups water
2 tablespoons distilled white vinegar (This reacts with the baking soda to make a great texture after the batter cooks. There is no discernible vinegar taste.)
1 teaspoon vanilla extract
2 eggs
For filling
12 to 15 oz jar dulce de leche (I had a 400g jar and didn't use the whole thing.) The real stuff can be tough to find outside of Latin America, but some specialty markets carry it. You can also make your n. And while caramel sauce you buy in the States is totally not the same, I suppose it will work.
For ganache
1 cup heavy cream
1 cup bittersweet chocolate chips
splash of vanilla extract (or rum if you wish)
Preheat the oven to 350 degrees F. Butter the bottoms and sides of three 8-inch round cakepans. (I used the same pan three separate times, which resulted in cakes of unequal thickness, but not that big of a deal.)
In a large bowl, whisk flour, sugar, cocoa powder, baking soda and salt together. Add oil and sour cream and whisk to blend. Gradually beat in the water. Blend in vinegar and vanilla. Whisk in the eggs and beat until well blended. Divide among the 3 prepared cake pans.
Bake for 30 to 35 minutes, or until a cake tester or wooden toothpick inserted in the center comes out almost clean. Let cool. (A little while after taking the cake out of the oven, I popped it in the freezer for 10 minutes so I could get the cake cool enough to transfer to a wire rack so that I could start cooking the next cake in the same pan. You'll have less trouble if you have more pans.)
Prepare the chocolate ganache. Put chocolate chips in a small mixing bowl. In a small saucepan, bring 1 cup of heavy cream to a near boil. Pour the cream into the mixing bowl of chocolate, add vanilla or rum, and whisk until combined. Allow to cool, but not fully harden, in the refrigerator. (It helps to stir it every 10 or 15 minutes.)
Once cakes are completely cool, warm the dulce de leche so that it is more liquidy and easy to spread. (You can do this by putting the open glass jar either in the microwave or in pot of water on the stove). Lay strips of parchment paper around the edge of the plate you wish to serve the cake on. Put the first layer of cake on the plate. Using a fork, poke the top of the cake several times, this will help the dulce de leche seep into the cake. Spread half the dulce de leche across the cake.
Add the second layer of cake and repeat the process of poking holes and covering with dulce de leche. Top with the third layer of cake. Using a knife or spatula, smooth out any dulce de leche that has come over the sides.
Take the ganache out of the fridge. You should be able to easily whip it into a thicker frosting at this point. (I believe I did this simply with a spatula. If it is too hard, set it on the counter and allow to soften.) Spread the ganache over the cake, evenly on the top and sides. Add any other decoration you wish, and remove parchment paper.
Serve with milk. You'll need it.
Cake keeps fine for several days covered in the fridge. The dulce de leche keeps it incredibly moist.