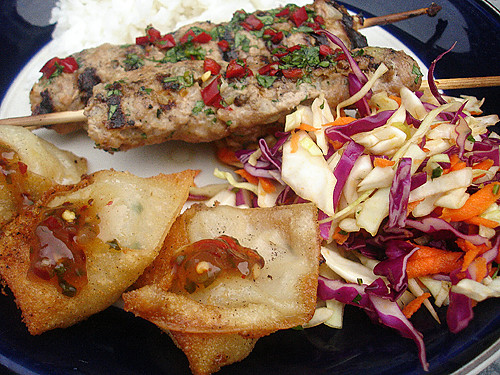 Missouri is very capricious when it comes to weather, so we relish every warm, sunny day we get. For us, that means barbecuing.
Well, when Missouri graced us with nearly a week of sunshine we grew tired of burgers, brats and Italian sausage. To mix things up one evening, we had a Thai-inspired barbecue.
As seen on the plate, we had ground pork kebabs with a soy/chili/cilantro sauce, rice, crab wontons and cole slaw with a sesame-ginger dressing.
The wontons and cole slaw were the product of our own experimentation, as most of our recipes are, but this time we didn't keep track of what we did. The kabobs came from a Thai cookbook, so you can absolutely recreate those.

Ground pork kabobs with Thai dipping sauce
From Thai: A Culinary Journey of Discovery
2 cups ground pork
1 egg
1 large onion, chopped
2 cloves garlic, minced
handful fresh cilantro, chopped
2 tablespoons sweet chili sauce (We used some hoisin sauce)
salt and pepper
In a large bowl, mix all ingredients together with your hands. Divide pork mixture into 8 portions and form long kabobs/kebabs around metal (or soaked wooden) skewers.
The recipe says to chill in the fridge at least an hour. As per usual, we skipped that step.
Cook the kabobs on the grill or under a broiler, turning occasionally, for 5-6 minutes, or until browned all over and cooked through.
Serve with sweet chili sauce or Thai soy dipping sauce as found here. I happened to see the recipe on Tastespotting just an hour before we started cooking, and it was perfect. Since we had sweet chili sauce on the crab wontons, I liked having the pork with a saltier sauce. My only change was using a fresh Fresno chili instead of dried chili flakes.