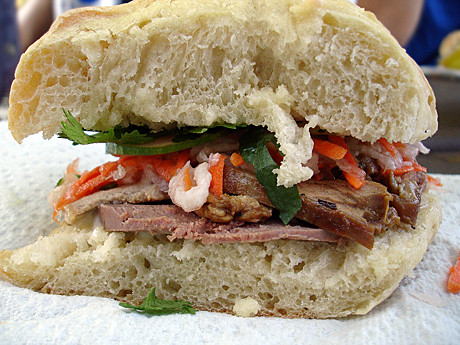 I have finally had a banh mi! I first learned of the Vietnamese sandwich from the LA Times in November. Then it seemed everyone was talking about them. The NY Times, LAist and multiple foodbloggers. My sister said even my high school newspaper had an article about them. I loved the idea of so many flavors coming together, so I couldn't wait to try it.
Since I hadn't gotten a chance to seek one out when I was last in LA, I had to make my own. When the Mizzou Meat Market had fresh Braunschweiger on sale, I knew it was time. And what better time than National Picnic Day?
If my first banh mi wasn't going to be from a Vietnamese expert, I wanted to do what I could to make mine as best as possible. The pork tenderloin and braunschweiger were from the university, which raises and butchers meat down the street from me. I bought an egg from the Root Cellar market, which sells products from local farms, and I made my own mayonnaise. I picked up a daikon from the Asian market downtown and pickled it with shredded carrots. I made the bread from scratch. I grew the cilantro in my front yard.
I wasn't messing around with this sandwich.
It was worth it. I found a great marinade for the pork loin at Plate of the Day. My experiments with Thai food have taught me how incredible fish sauce is with pork, but this was even better than I anticipated. I would make tenderloin this way again, even without the sandwich. It's just the right combination of sweet, salty and garlicky.
The pickled daikon and carrot smells awful when you make it, but it tastes great. It offers a good sour element to the banh mi, but I found myself eating more of it with a fork after I finished my sandwich.
Homemade mayo is a lot easier than I expected. I worried about it not emulsifying properly, but Alton Brown — annoying as I find him — knows food science and didn't let me down with his recipe.
My baguette could have had a crisper crust, but we ate this at a park on a humid day. I would definitely like to toast it first next time and eat it warm.
All in all, I think it was a good introduction. Maybe I'll get a chance to try one in New York City when I go next week.
Banh Mi
This Vietnamese sandwich has infinite variations. French bread, pate of some sort, pickled carrots and daikon, cilantro, mayo and chilies are usually standard. A quick Google search will give you many other options for fillings, but after a lot of research, this is how I made mine.
French baguette. I made my own, but I can't find the recipe online anymore. Use your most trusted source, whether it's a cookbook or a great bakery.
Mayonnaise (I used Alton Brown's recipe, but without dry mustard and a little less of the lemon-vinegar mixture. I added some white pepper and probably an 1/8 teaspoon of dijon. I don't like mustard, but it needed it.)
Braunschweiger sausage (Pate is traditional, but liverwurst is similar.)
Pork tenderloin (Incredible marinade recipe here. Then just sear and roast the tenderloin as you would any other until it reaches an internal temperature between 150 and 160. Keep all the juices that run in the pan and pour it over the pork after you slice it.)
Pickled shredded daikon and carrots (I made a smaller amount of this recipe.)
Thai chilies (aka Bird Chilies. Less spicy jalapenos are commonly used in the States. The Thai peppers are verrry hot on their own, but once they were minced and added sparingly to the sandwich full of other flavors, the heat was just right.
Cucumbers, thinly sliced. Don't use waxy ones.
Fresh cilantro. I usually just use the leaves, but the stems work well in this sandwich because there are so many pronounced flavors.
Slice and toast the baguette, then smear both halves with mayonnaise. Add thin slices of liverwurst/pate. Top with sliced tenderloin. Add pickled daikon and carrot, not too much of the brine or everything will be mushy. Add Thai chilies or jalapenos as your taste buds can handle. Layer on some cucumber slices. Then put some fresh cilantro on just before the top piece of bread.