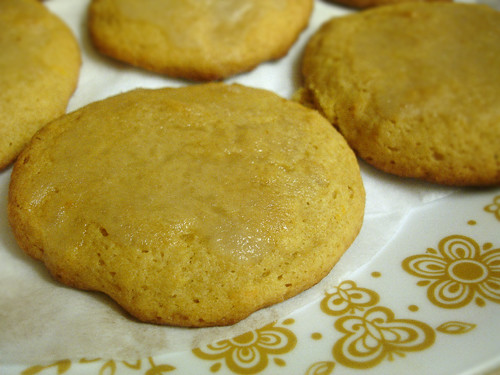 I don't even like beer most of the time, but this cookie recipe is a keeper.
You start with two bottles of beer then boil it down with honey until you only have 1/3 cup of liquid. Then mix it with standard cookie ingredients, plus ground coriander and orange zest.
If you enjoy the subtleties of a good brew, as Michael does, you'll appreciate how the orange and coriander work with the flavors in the Belgian white.
Otherwise, you'll just be thinking, "Huh, beer cookies? These are better than I imagined. I want another."
The cookie itself is very cakey, and it stays incredibly soft even after a few days. I mean melt in your mouth soft. The glaze gives it just enough sweetness. To me, it finishes a little bitter, but as I said, I'm not usually a beer fan. Even still, I love these. Perfect for someone who doesn't like their desserts overly sweet.
Michael and I made these in the winter when I saw the recipe on Cookie Madness. When we made them again last weekend, they were better than I remembered. I'll definitely be making these in the future.
Belgian White Beer Cookies
From Ultimate Recipe Showdown
2 bottles (12 ounces each) Belgian style white beer (Hoegaarden is recommended. We used Shock Top.)
5 tablespoons honey
1 1/2 sticks unsalted butter, at room temperature
1 1/4 cups powdered sugar
1 large egg
1/2 teaspoon vanilla extract
1 medium orange, zested
2 teaspoons ground coriander
2 cups all-purpose flour
1/2 teaspoon baking soda
Put the beer and honey to a medium saucepan and reduce over medium heat until you have about 1/3 cup of liquid. You will occasionally have to skim the foam off the top of the beer. You will know you have hit 1/3 of a cup of liquid as the liquid will suddenly begin to aggressively foam due to the high concentration of sugar (This looks different from foaming due to carbon dioxide, the bubbles are much larger with the sugar foaming). Let this reduction cool to room temperature.
Cream the butter and sugar together. Add the egg and blend thoroughly. Then add the vanilla, orange zest, coriander, and beer reduction and blend again. Mix the flour and baking soda together then slowly add to the batter.
Preheat oven to 350 degrees F.
Using a uniform scoop (I use a 1-ounce disher) scoop mounds of cookies onto an aluminum cookie sheet lined with parchment. Make sure you do not overcrowd the cookies; you should be able to fit about 12 cookies on a half sheet pan. Bake for 20 minutes (depending on your oven it may take more or less time, for some ovens it could take 15 minutes for others it could take 25; 20 minutes is an average time).
Let the cookies cool on the cookie sheet until they are cool enough (about 10 minutes) to transfer to wire racks to cool completely.
Orange Glaze
1/2 teaspoon vanilla extract
1 cup powdered sugar
1 tablespoon orange juice
1 tablespoon whole milk
1 orange zested
Whisk the vanilla into the sugar. Mix the orange juice and milk together. Add milk and orange juice mixture until you reach the consistency of a thick paste; you should only need to add 1 tablespoon of the mixture (half of what you made). Using a butter knife put a dollop of icing on each cool cookie and spread it over the top. Put a small piece of orange zest from the bar grater as garnish, if desired. Let the icing harden to desired hardness and consume or store.
(This made a lot more icing than we needed the first time Michael and I made it. I froze a 1/2 cup of it, then defrosted it four months later when we made these cookies again. We had just the right amount of glaze for another whole recipe of cookies. But as you can see, we didn't use a lot. If you want the cookies to have thick frosting, then you probably won't have any left over.)
Notes from recipe author Sean LaFond: This recipe has no salt in it. I have found that because of the beer adding salt can make the cookies way too salty. The cookies should be a little crispy on the outside, and cake like on the inside.