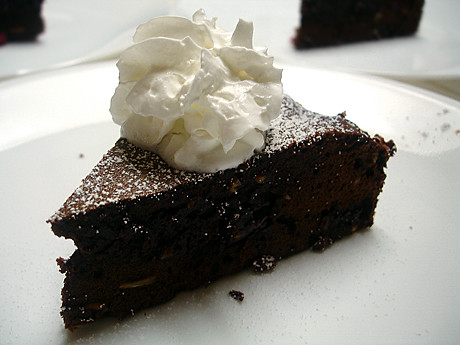 I used to have a pile of more than a dozen cookbooks near my bed. Most were library books, some were Michael's, one was chef Mike Odette's. When the semester ended it was time to return them all. I was left with two books of my own:
"Alone in the Kitchen with an Eggplant: Confessions of Cooking for One and Dining Alone" and "Brownies" …how appropriate.
"Alone" is a compilation of personal essays on solitary cooking and eating. I love creative non-fiction, and this book was filled with touching stories, witty writing and very different perspectives on how people deal with food when they're by themselves. (I'll write more about the book in another post, but I recommend it highly.)
Brownies is a recipe book Michael got me. I imagine that with him gone, I'll be wanting to make that comfort food a lot more often.
Here's a brownie recipe I made while he was still in town — cherry almond brownies. And check out more of what we're reading here.
Cherry Almond Brownies
"Old Fashion Brownies" recipe from Linda Collister's Brownies with my additions of cherries and almonds
4 eggs
1 1/2 cup sugar
1 1/4 sticks of butter, melted
1/2 teaspoon vanilla extract, or almond extract, or a little of both
1 cup and 2 tablespoons flour
3/4 cup unsweetened cocoa powder
1/2 cup or more maraschino cherries, chopped, plus some of the syrup
1/2 cup chopped almond pieces
1/2 cup bittersweet chocolate chips (Ghirardelli 60% cocoa are my favorite)
Preheat oven to 325 degrees.
Break eggs into a mixing bowl. With an electric mixer, or really quickly by hand, whisk until frothy. Then whisk in sugar. Continue whisking as you slowly add the melted butter. Whisk a minute more, then add vanilla extract.
Sieve the flour and cocoa powder into the bowl and stir in with a spatula or wooden spoon. When thorougly combined, add chopped almonds and cherries, plus a little of the syrup that the cherries come in.
Pour batter into a greased square or circle pan (8-9 inches). Bake for about 25-30 minutes depending on the pan size and your oven's own temperment. Always err on the side of less done.
These are very thick and rich. They should definitely be served with whipped cream or ice cream. (I liked whipped cream with these since it's lighter.) For presentation, dust with powdered sugar.