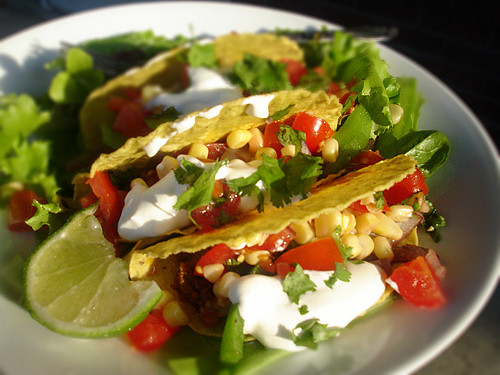 Last week I picked up a pint of beautiful cherry tomatoes at The Root Cellar. I popped a whole one in my mouth and it was like candy (which is a wonder because I didn't even like tomatoes really until I got to college). I was so happy to finally have a tasty tomato after months of winter. But the sun was shining that day in Columbia, and I decided to make a meal that would feel like my perennially warm home of Los Angeles: a light and fresh taco salad.
I love beans and cheese too, but this was not a day for those. This day was about the fresh tomatoes and greens I had picked up. I made a sweet and spicy corn salsa with the cherry tomatoes. Then, I filled the tacos with a chorizo and ground beef mixture, green peppers and red onions (cooked, but still tender), the salsa, sour cream and cilantro. I put the tacos on top of a bed of greens for presentation, then we went out to my front porch, and smashed the tacos and mixed the whole thing together to eat as a salad.
Sweet and Spicy Corn Salsa
Sweetest tomatoes you can find, diced
Sweet corn (If I don't have fresh corn, my favorite is Trader Joe's frozen white corn. Little kernels of sugar, I tell ya)
Red onion, diced
Chili pepper of your choice, minced (I used habanero)
Cilantro
Lime juice
Salt and pepper
There are no exact measurements for this. Simply dice the tomatoes and transfer to a bowl, making sure to keep the juice. Add corn — cooked and cooled if fresh, defrosted if frozen, drained if canned. Dice red onion and mince chili pepper. Chop cilantro and add. Squeeze in lime juice (at least half a fresh lime's worth), and add salt and pepper to taste. Stir it all together and let it sit so the flavors can come together. It will be better if you keep it out of the fridge for this step, but you can of course store it in the fridge should you have leftovers.
Chorizo Taco Salad
Measurements are approximate and easily changed. Serves 3-4.
2/3 pound Ground chorizo sausage (not in casing)
1/3 pound ground beef (depending on the spiciness of the chorizo you might want to adjust the proportions of sausage to beef)
2 tablespoons tomato paste
Minced garlic
1 teaspoon oregano
1 lime
1 green pepper, sliced
1/2 large red onion, sliced
Baby romaine or other salad greens
Sour cream
Handful of chopped cilantro
Taco shells or tortilla chips (sidenote: I bought La Tiara taco shells for the first time a while ago, and they taste great. Very light and corny, but not the best for filling up too much because they are small and thin. For this meal though, they were perfect.)
Put ground meats into a small pot or deep pan and begin to brown, breaking up with a fork. Stir in tomato paste, garlic and oregano, and let simmer until meat is thoroughly cooked. A squeeze of lime wouldn't hurt.
Put another large pan on the stove over high heat. Add a small amount of olive oil, then toss in pepper and onion slices. Sprinkle with salt and ground pepper. Cook until they start to soften, but still have some crunch to them.
Serve meat mixture and peppers and onions in taco shells or on a salad bed with tortilla chips. Add tomato and corn salsa, sour cream, and chopped cilantro. Squeeze a slice of lime over the entire thing.
Enjoy outside as the sun goes down.