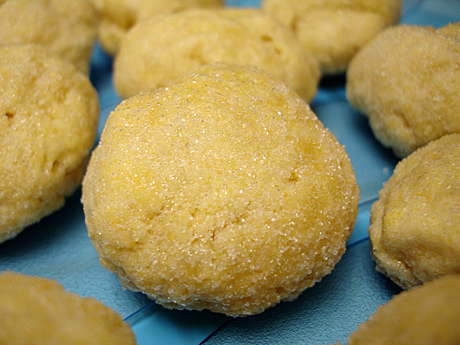 Isn't "sparkle cookie" a great term of endearment? As in, "Ohhh my little sparkle cookie!" When I'm a grandmother, I'm absolutely calling my granddaugher that and making this recipe for her all the time.
Until then, I occasionally refer to my friend Kat as "Sparkle Cookie," and I made her a batch when she was feeling sick. Can't you tell I'm gonna be a good grandma?
Anyway, these cookies are a cross between a corn muffin and shortbread. They aren't too sweet, which I always appreciate. Although I don't drink coffee, I bet they'd be nice with a cup. So, from now until I'm someone's favorite grandma, I'll be having mine with tea.
Cornmeal Sparkle Cookies
Recipe from Cook Think. Originally by Jess Thomson who called them Cornmeal Sparklers. Adapted only slightly to increase the cornmeal content.
2 1/2 cups all-purpose flour
1 1/2 cup cornmeal
1/2 teaspoon salt
1/4 cup sugar
2 sticks (1 cup) cold unsalted butter, cut into 8 pieces each
1/2 cup cold water
1/4 cup sour cream
1 large egg
About 1 cup of extra sugar to roll the cookies in. Original recipe suggests turbinado sugar (large crystal raw sugar) but I just used plain white
Pulse the flour, cornmeal, salt, and sugar together in the food processor until blended. Add the butter, and pulse 20 times, or until the butter is the size of small peas. Whisk the water, sour cream, and egg together in a measuring cup (it should total about a cup of liquid). Turn the machine on, and add the liquid in a slow, steady stream; the dough should ball up almost immediately.
Dump the dough onto a large piece of wax paper (the dough will seem quite wet), wrap, and chill until firm, about 2 hours.
Preheat the oven to 350 degrees, and line two baking sheets with silicon baking mats or parchment paper.
Working quickly, roll tablespoon-sized piece of dough into balls, roll the balls in the turbinado sugar to coat on all sides, and place on the baking sheets about 1 1/2" apart. Bake for 20 to 25 minutes, or until the cookies are firm in the center and barely beginning to brown on the bottom.
Cool cookies 5 minutes on pans, then transfer to wire racks to cool completely.