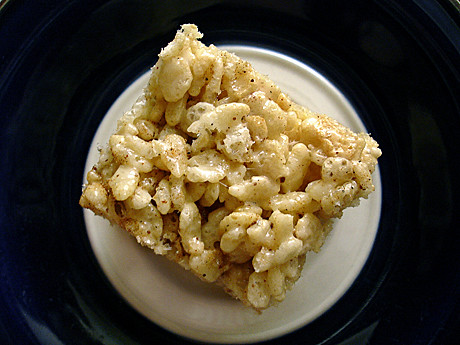 When Michael and I competed in the university Iron Chef competition, the designated ingredient was rice, and we decided to plan an Indian-themed menu. We didn't make dessert, but I thought garam masala Rice Krispie treats would have been fitting. So later one night when we had Indian food for dinner, I decided to try my idea out.
Garam masala is a common spice blend in Indian cuisine. I read in Meena Pathak's Indian Cooking for Family and Friends that garam masala usually includes cardamom, cloves, cinnamon and nutmeg, among other spices typically associated with savory dishes, such as cumin, coriander and bay leaves. I used all the spices Pathak called for, but adjusted the levels as I thought would be better for the Rice Krispie treats.
The result was different than anything I'd had before. The flavor is clearly dessert but more complex. Play a game and get people to try to guess what you put in their Rice Krispies!
I recommend buying whole spices and grinding them yourself. They are so much more powerful. I love cinnamon and nutmeg regardless, but you have to try them fresh.
Garam Masala Rice Krispie Treats
Standard Rice Krispie Treat recipe plus my own spice blend
6 cups Rice Krispies cereal
10 oz. marshmallows
3 tablespoons butter
2 small cinnamon sticks
1 whole nutmeg
2 cloves
1 teaspoon cardamom seed
1/2 teaspoon cumin seed
1/2 teaspoon coriander seed
1/2 teaspoon fennel seed
1 small bay leaf
Dry roast all spices in a skillet over medium heat for about 3 minutes. When cool, grind in a spice grinder or small processor of some sort. (I grated a little less than half the nutmeg on a microplane instead of putting it whole in the grinder.) This will make more garam masala than you will need for one batch of rice krispie treats, but it keeps well for some time in a sealed container in the pantry. I'm sure you'll find other uses for it. (You can always go back and add more cumin, coriander and bay leaf to use in more savory dishes.)
In large saucepan melt butter over low heat. Add marshmallows and stir until completely melted. Remove from heat.
Sprinkle in about a teaspoon of the garam masala. Add cereal and stir until coated.
Evenly press mixture into nonstick 13 x 9 pan. Dust with more spice if desired. (I like the strong spice flavor, but some might want just a hint. You should sneak a taste at this point and decide for yourself.) Allow to cool, then cut and serve.