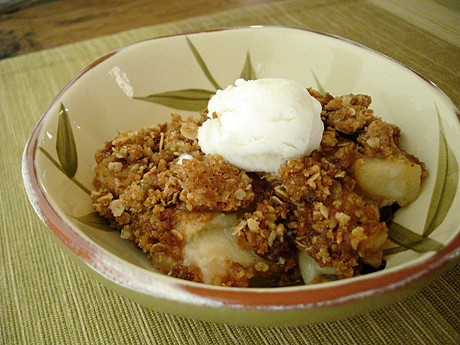 For whatever reason, my brother has been bringing home absurd amounts of fruit from his school cafeteria. One day we found ourselves with way more pears than we could eat before they went bad. Conveniently, an issue of Sunset Magazine came with a recipe for a unique pear crisp courtesy of Campanile chef Mark Peel. Ginger, raisins, marsala? I was intrigued.
Of course when I went to make it, I ended up with several substitutions (you'll see my many parenthetical notes in the recipe below). But I was happy with the crisp. Maybe a little sweet, but that could have been the fault of my changes and inexact measurements. Anyway, it was nothing a small scoop of tart yogurt couldn't fix.
Pear Ginger Crisp
Recipe adapted from Mark Peel and Martha Rose Shulman in Sunset Magazine
Streusel
2/3 cup flour
3 tablespoons sugar
1/3 cup packed brown sugar
1/2 cup oats
1/2 teaspoon cinnamon
1/4 teaspoon grated nutmeg
1/8 teaspoon salt
6 tablespoons unsalted butter, cut into small chunks (I used salted butter and just didn't add salt)
Pears
2 1/2 pounds firm-ripe Bartlett pears
Juice of 1 lemon (We didn't have a lemon, so I used lime and pineapple juice. That equals lemon, right?)
1/2 cup sugar
1/4 cup sweet marsala (I used white wine because that's what we had open)
1/4 cup chopped crystallized ginger (I grated some fresh ginger into the cooked sugar mixture)
1/3 cup golden raisins (I used dark raisins)
1/2 teaspoon vanilla extract
1/4 teaspoon salt
2 tablespoons unsalted butter (I used salted butter and just didn't add salt)
To make the streusel, preheat oven to 350. Line a rimmed baking sheet with parchment.
In a bowl, stir together dry ingredients. Add butter; mix on low speed until crumbly. Spread across the pan. Bake until golden at the edges, 8 to 10 minutes. Stir. Bake 3 to 5 minutes longer, until golden all over.
Let streusel cool. Increase oven to 375.
Peel and core pears. Cut into 1-inch chunks and mix gently in a large bowl with lemon juice. Butter a shallow 2-quart baking dish and set aside. (I used a casserole bowl.)
Put a 3- to 4-quart pan on the stove over medium-high heat. Add sugar and 2 tablespoons of water. Stir and cook until sugar begins to brown, 4 to 7 minutes. Swirling pan occasionally, boil until sugar is golden brown, 1 to 2 minutes longer.
Remove from heat, let cool about 30 seconds, then gently stir in pears. Return pan to heat and cook, stirring occasionally, until sugar melts again, 2 to 3 minutes.
Add wine, ginger, raisins, vanilla and salt. Reduce heat and simmer, stirring occasionally, until pears are just tender, 8 to 10 minutes. Using a slotted spoon, transfer pears to buttered dish.
Stir in butter and cook until melted. Spoon mixture over pears.
Scatter streusel over pears, then bake until fruit is bubbling, 15 to 20 minutes. Let cool about 10 minutes. Serve warm, with vanilla ice cream, tart frozen yogurt, creme fraîche, Greek yogurt or crema.
Make ahead, then reheat in a 350° oven until warm, about 20 minutes.