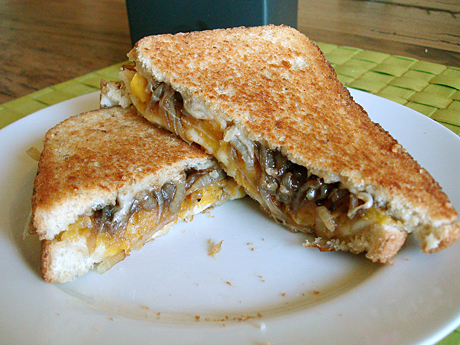 Los Angeles, great city that it is, has a gourmet grilled cheese truck that announces its location on Twitter each day. My coworker Aaron had been keeping tabs on it, so when it came near the office he drove me and our other coworker Allie to the parking lot where the truck had set up shop. We had to wait in line for 25 minutes, but we weren't disappointed. Aaron got a sandwich filled with mac-and-cheese, Allie had brie and pears on cranberry-walnut bread, and I had the Harvest Melt: Gruyère, roasted butternut squash, leeks and balsamic-agave syrup. Brilliant.
Yesterday Allie came over and I tried to recreate the Harvest Melt in all its glory. I'm happy to say it was a success.
The grilled cheese was so good, so satisfying, that I didn't even think about other food until dinner. A rare occurence for me. But the squash, the onions, the balsamic… the cheese… the perfectly grilled toast… Pause for a few moments of reverie.
Even better, I don't need to use Twitter or get in a car to have one.
Harvest Melt Grilled Cheese with Gruyère, Butternut Squash, Caramelized Onions, and Balsamic Syrup
Adapted from The Grilled Cheese Truck. I turned to We Can Cook That for help making the balsamic syrup since they seemed to recreate the Harvest Melt with success. Also, the grocery store didn't have leeks, so I used onions, which were really good, but I might have prefered the brightness of leeks. Makes 2 very filling sandwiches.
1-pound butternut squash, peeled and sliced as thinly as you can, ideally use a mandoline set to 1mm
Olive oil
Sage (I seasoned the squash with a little ground sage because I like the flavor combination, but we didn't have fresh
1 small onion, cut in half, then sliced thinly
little less than 1/2 cup balsamic vinegar (I used 1/2 cup and ended up with too much)
1/2 teaspoon agave syrup (I used an agave-maple blend from Trader Joe's.)
4 oz. Gruyère, sliced or grated (I sliced it thinly so I had some to put on both sides of the bread)
4 slices of sandwich bread, I like whole grain or oat nut
4 tablespoons butter (1 tablespoon for balsamic reduction, 3 for melting and brushing on bread)
Set oven to 400. Arrange squash slices in a baking dish, drizzle with olive oil and season with kosher salt, ground pepper and sage. Cook for 20-25 minutes.
In a small pan over medium heat, cook onion slices with some olive oil and kosher salt. When they start to soften, turn down heat to prevent burning. Allow to caramelize slowly as the squash cooks.
In a small saucepan, add balsamic vinegar and agave syrup, and bring to a boil. Reduce heat, stir in 1 tablespoon of butter and cook until mixture has reduced by half.
Place a cast-iron griddle over medium-low heat and allow to warm as you put together the sandwiches.
Melt the remaining 3 tablespoons of butter. Evenly brush the outer side of each slice of bread with the butter. Put half the cheese on two slices of bread. Add sliced squash and onions. Brush with balsamic syrup. Add remaining cheese. Top with buttered bread.
Cook sandwiches on the griddle until cheese is melted and bread is golden brown.
The sandwich is really rich and a little sweet so I liked it paired with unsweetened iced tea. A beer probably tastes great too.