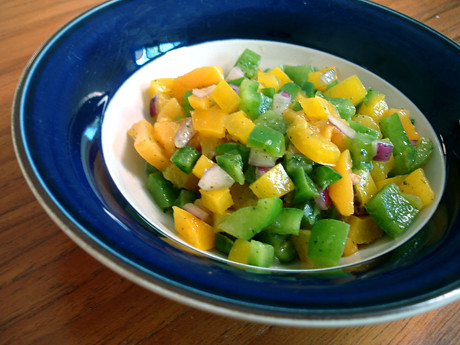 More and more, I find myself needing to cook. Not because I want to eat but because I just feel like chopping and mixing. Getting a perfect dice on an onion? Rapidly slicing celery? Whisking a vinaigrette? Grinding spices? These are all therapeutic activities for me. And it just doesn't feel right anymore to go too long without doing them.
Which is probably why at about midnight after going to dinner with my family — and less than seven hours until I needed to wake up for a marathon day of graduation ceremonies — I ended up inventing this salsa.
I wanted to make sure everything would be ready for our graduation BBQ the next day, and I just felt compelled to start chopping. I started by dicing jalapeno peppers, followed by two bell peppers and some red onion I had in my fridge. I added lime juice, olive oil, salt and cilantro. I thought I could add tomato when I got some the next day. But when I looked at it, the yellow bell pepper reminded me of mango, and I wanted the salsa to be sweet.
Well, I found a can of peaches in the pantry, cut those up, and tossed them in. A little more lime juice, a squeeze of fresh orange. Hey, this is actually really good.
It sat overnight, and then it made its debut at the BBQ. We dipped chips in it and served it on burgers. The leftovers lasted several days in the fridge. Bell pepper is nice because it keeps its crunch for a while. And what I think is fun about this salsa is that the peaches and yellow bell pepper look similar, as do the jalapenos and green pepper, so you kind of never know what you're going to get.
Peach and Bell Pepper Salsa
Original recipe
1 yellow bell pepper
1 green bell pepper
1 large fresh peach, or half a 12 oz. can, drained
3 fresh jalapenos
half a small red onion or a quarter of a large one (I'm not a huge fan of a lot of raw red onion)
small handful of fresh cilantro (I used a block of frozen stuff, but would use fresh in the future)
Juice from 1-2 limes
Juice from half an orange
1 tablespoon olive oil (I mention this often, but a fruity Spanish olive oil is really good for things like this)
Dice the jalapenos and red onion. Soak the onions in cold water for a while if you want to get rid of some of the bite. Meanwhile, finish chopping the bell peppers, peaches and cilantro. Mix all your chopped ingredients in a large bowl (drain the onions, obviously). Add a little bit of salt, a drizzle of olive oil, juice from one lime and a squeeze of orange. Taste and adjust as necessary. Allow to chill for an hour or overnight for flavors to develop. It works as a nice, crunchy dip, or gives burgers and sandwiches a great spicy-sweet component.