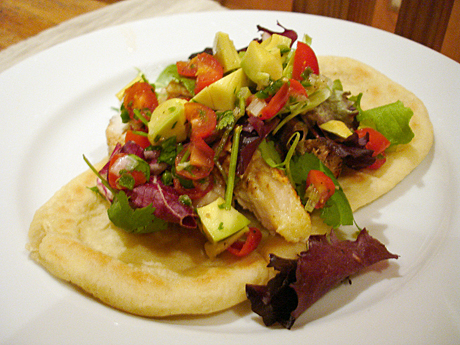 How could you not want something described as a "gyro-pizza-taco"?
When I read the LA Times piece about the baco last year, I made a mental note and a digital bookmark to come back to it. Since then, the chef who invented the baco, Josef Centeno,  has opened another restaurant in LA, and the baco is back in the press. Though I haven't made it yet to the Lazy Ox Canteen for an official baco, I baked up some of Centeno's signature flatbread and created some sandwiches of my own. (For something fun to do, read the Lazy Ox menu.)
From what I've read, there are two things that make a baco a baco. First is the bread. Like my naan recipe, this flatbread calls for plain yogurt. What's different is the addition of lime juice, ginger, garlic and dried lavender. Second is the mix of sauces and international influences:
In addition to the original baco, now made with pork belly and red wine-braised paleron (pot roast), Centeno makes four variations. The vegetarian baco centers on crisp Japanese eggplant; lamb sausage baco has croquettes made from potato and morcilla (a Spanish blood sausage) and caraway-pepper sauce; the el pollo baco features chicken escabeche (marinated chicken) radicchio and zhoug, a spicy chile sauce from Yemen; and the pesco baco is a tasty composition of panko-crusted albacore, pickled onion, and four (count them) different sauces. (From the LA Times)
After I made the bread, we did a Mexican-spiced chicken with fresh tomato-avocado salsa, the ginger-lime-lavender yogurt mixture, and a smoky homemade chili sauce. Another afternoon I filled one with a mixture of chicken, pork and sausage in a sweet Vietnamese sauce, along with lettuce, cucumber and tomato in a Persian yogurt-based dressing, and the spicy chili sauce — basically whatever leftovers I found in the fridge.
So now that you have the flatbread recipe, what will you put in your baco?
Baco Flatbread By Josef Centeno via the Los Angeles Times. Note, this makes more of the yogurt mixture than you'll need for the dough, but it's a great sauce to put on any baco, so  you'll be happy to have it. Makes 10 flatbreads.

1 cup plain Greek yogurt
juice of 1/2 lime
1 1/2 teaspoons dried culinary lavender (I had lavender salt, so I used some of that and didn't add the kosher salt)
1 clove garlic, minced
1 1/2 teaspoons minced fresh ginger
kosher salt
1 1/2 teaspoons dry yeast
1 1/2 teaspoons sugar
6 tablespoons olive oil
3 cups flour
In a nonreactive bowl, mix the yogurt, lime juice, lavender, garlic and ginger. Season with 1/2 teaspoon salt, or to taste. Set aside.
In a large bowl, combine the yeast with 1 cup warm water and the sugar. Cover and allow to sit for 10 minutes, or until frothy. Separately, mix the olive oil with 3 tablespoons of the yogurt mixture.
Stir half of the flour into the yeast mixture, then add the yogurt mixture. Stir in the rest of the flour and the 1 teaspoon salt, and knead for 10 minutes, or until the dough is elastic. Place the dough in an oiled bowl, loosely cover and allow to rise in a warm area until doubled in size, about 1 1/2 hours.
Punch down the dough and knead for another 10 minutes. Divide the dough into 10 equal portions; roll out each into an oval a little over 8 inches long and 4 inches wide. If the dough contracts while rolling, let it rest while you roll out another piece, then come back to it (it will relax and roll more easily).
Heat a seasoned cast-iron griddle or frying pan over medium-high heat. Oil the surface lightly with canola oil and grill the dough, one or two pieces at a time, until each is puffed and golden-brown on the bottom, 30 seconds. Flip the bread over and grill the second side for 30 seconds, until golden-brown. The bread will be soft, not crispy. Keep warm until ready to serve. (You also can rewarm the bread in a 400-degree oven for 1 to 2 minutes.)
Top with meat, vegetables and a mix of sauces. Fold and eat like a gyro-pizza-taco. Have a fork and several napkins ready.
(Since we were only feeding 3 people the first night, we made 3 breads, then par-cooked the rest of them just so they started to turn golden. When they cooled, we put them in a large Ziploc and they kept nicely for another two days. All we had to do was put them on a hot cast-iron for a bit before serving.)