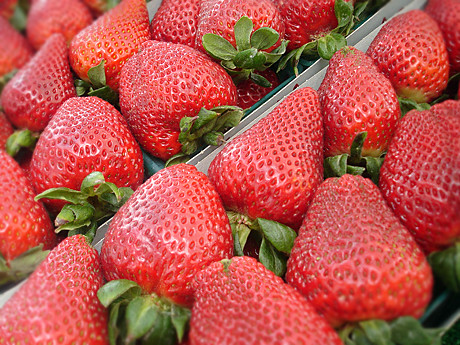 My parents' house used to have the best lemon tree. I'm sure these lemons would have won a contest of some sort had I entered them. The tree produced absurdly large lemons. Bigger than grapefruits and more interesting shapes, too.
Besides comedic value, the tree offered an endless supply for lemonade, and last summer I started to get creative. The best flavor I made was Strawberry Basil Lemonade.
As soon as I got my ice cream maker I knew I'd have to recreate the flavor in sorbet form. Finally I bought huge package of strawberries and the biggest lemon I could find in the store (still a dwarf compared to our tree's best). I also picked some of the basil I've been growing. It was on.
You can make extra lemon-basil simple syrup to flavor the strawberry sorbet and have some left over for great summer drinks. Add it to iced tea or invent some cocktails.
Strawberry Lemon Basil Sorbet
Original flavor idea with technical help from David Lebovitz's strawberry sorbet recipe
1 pound fresh strawberries, rinsed and hulled
1 cup fresh basil leaves
1 lemon
1 cup sugar (for simple syrup, which you might not use all of for the sorbet)
1 cup water (for simple syrup)
pinch of salt
Start by making the lemon-basil simple syrup. In a medium saucepan, add 1 cup of water, 1 cup of sugar, 1 cup of fresh basil and the zest of one lemon. Bring to a boil, stirring occasionally, until the sugar dissolves. Take
off heat, and allow to sit for about a half hour. This will let it cool and bring the flavors together.
Now is a good
time to wash and cut the strawberries.
Strain the simple syrup through fine mesh, and throw out the basil, unless you can think of something else to do with it. You could maybe chop it up and add it to the sorbet, but I didn't try it.
In a blender or food processor, puree the strawberries with 1/2 cup of the syrup to start. Stir in a pinch of salt. Taste and add more syrup as desired. This will all depend on the strawberries you used and your own preference. You can squeeze in some lemon juice if you wish. I did, but found the result a little too acidic.
When you're happy with the taste, freeze according to your ice cream maker's directions.
To keep my homemade ice cream and sorbet from freezing too hard, I like to add a splash of alcohol near the end of the process. Vodka is always a good option because it doesn't impart a flavor, but sometimes you can find an alcohol with a good flavor to match. Lebovitz suggests kirsch with his strawberry sorbet. I'm not familiar enough with it to say whether it would work with the lemon and basil as well.